It's been a while since I've blogged about food, so I thought I'd share about the dinner I cooked tonight.
After a Harville's/Wal-mart outing, I was set with all the ingredients I needed. A few days ago this dish just popped into my head; this evening was the time to see if it was creatable. As soon as I got home from the store, I started slicing and smashing and shaking and sprinkling.
Honestly, it was very simple. This is the recipe I created. Feel free to recreate it. :)
Ingredients:
5 skinless, boneless chicken breast halves
1/2 red onion, thinly slice
1 large tomato, thinly sliced
1 lemon, thinly sliced
3 garlic cloves, thinly sliced
kosher salt
black pepper
Directions:
Preheat oven to 375 degrees F. Place chicken in greased 9 x 13 pan. Aesthetically place onion, tomato, lemon, and garlic slices on top of chicken. Sprinkle with kosher salt and black pepper, to taste (about 1/2 tsp salt, 1/4 tsp pepper). Bake 30 minutes, or until chicken is done (no longer pink when cut open).
While the chicken was cooking, I made some hummus.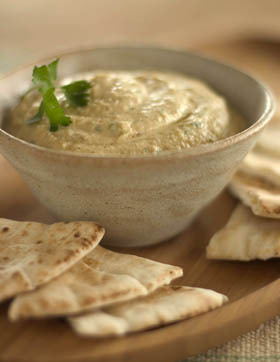 Ingredients:
1 can garbanzo beans/chickpeas, drained and rinsed
1/3 cup tahini (ground sesame seeds)
1/4 olive oil
3 cloves garlic, smashed
2 T lemon juice
Red bell peppers in a jar, to taste (along with some of the juice)
Water, if needed (don't add it unless you really can't get the beans to mix!)
Directions:
Dump all the ingredients in the blender and turn it on. You will have to stop, stir, and start again quite a few times before it will mix completely. Don't get frustrated--it will eventually turn into a lovely, smooth paste. Served with pita, this dip is absolutely scrumptious!
Next, I tossed green beans with lemon juice, garlic slices, a little bit of olive oil, salt (kosher, of course), and pepper, and roasted them in the oven at 450 degrees for 10 minutes. Yum!
Even Drew was generous in his appreciation of the meal. Success!